Title: The Paper Wife
Author: Laila Ibrahim
Publication Date: October 30, 2018
Genre: Historical Fiction
Rating:
Southern China, 1923. Desperate to secure her future, Mei Ling's parents arrange a marriage to a widower in California. To enter the country, she must pretend to be her husband's first wife—a paper wife.

On the perilous voyage, Mei Ling takes an orphan girl named Siew under her wing. Dreams of a better life in America give Mei Ling the strength to endure the treacherous journey and detainment on Angel Island. But when she finally reaches San Francisco, she's met with a surprise. Her husband, Chinn Kai Li, is a houseboy, not the successful merchant he led her to believe.

Mei Ling is penniless, pregnant, and bound to a man she doesn't know. Her fragile marriage is tested further when she discovers that Siew will likely be forced into prostitution. Desperate to rescue Siew, she must convince her husband that an orphan's life is worth fighting for. Can Mei Ling find a way to make a real family—even if it's built on a paper foundation?
---
I haven't read very many (if any at all) historical fiction books centered around Asian culture, so Paper Wife was very alluring. The story starts in the early 1920's and is rich in historical detail – both Chinese and American. If you've never heard of paper wives (I hadn't either until I read this book) and you're a history nerd like me, you should do a quick Google search. It's pretty interesting stuff.
Mei Ling, the feisty main character, is thrust into a marriage that she neither wants nor chooses and finds herself on the way to America as a paper wife. She's not being honest about her identity with her new husband and before long she realizes he's not being honest with her either, which sort of sets the foundation for Mei Ling's internal conflict. Aside from that, there were plenty of subplots to keep the story moving right along and quite a few secondary characters that accompanied them. Some of the subplots were a little harder to believe than others, not because they couldn't happen but because by the third or fourth unusual thing it seemed like the main characters had the worst luck in the world! Overall I think they did add to the story, though, and also furthered my understanding of the Chinese experience in the 1920's.
What impressed me the most about this book was the extraordinary amount of research that must have gone into it. Just the research Ibrahim would've had to do for the small portion of the book that actually took place in China is staggering. Add to that the research for immigrant experiences on the ship over, detention before being admitted to the country, and daily life in California for a Chinese immigrant in the 1920's…. phew. That's a lot of work! I also loved the way the author used '——' when Mei Ling was around someone speaking English. It's so nice to have an author acknowledge that a MC that doesn't speak the language they're listening to wouldn't understand what's going on!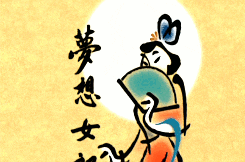 ARC provided in exchange for an honest review