Since I finally cataloged my books last year and now I'm trying to read through some of them with Beat the Backlist, it's only right that I bare my bookshelf! This tag was originally posted on PaperFury and I last saw it at Tomes with Tea.
---
Book you own but haven't read yet
This made me laugh out loud. I have about 300 books I haven't read yet, so I'll list some of the most pressing reads: Crooked Kingdom, Every Breath, Caraval, The Night Circus, Witches, and Children of Blood and Bone.
BOOKS YOUR FRIENDS LOVE

A good friend absolutely loved the the Inn Boonsboro trilogy and brought all three for me to borrow. I fell in love with them too, so much so that I had to buy them! It's been a couple of years now so I'm ready for a reread.
BOOKS BY AN AUTHOR YOU LOVE
The Love Comes Softly series by Janette Oke. She's my absolute favorite writer and one day I'd love to own every book she's ever written – I have 18 of them so far.
Book at the bottom of the TBR
I don't really rank my books because I am the textbook definition of a mood reader. I guess something that I won't be picking up anytime soon is the Song of Ice and Fire series because I'm currently watching the TV show.
Book with color in the title
Between Shades of Gray (recently renamed Ashes in the Snow) by Ruta Sepetys, Black Dove White Raven by Elizabeth Wein, and Black Ice by Becca Fitzpatrick.
Book set somewhere you'd like to visit
I'd love to visit the UK someday!
Most collected author
My most collected author is actually Janette Oke at 18 books, but since I already talked about my massive Janette Oke collection a close second is Nicholas Sparks at 15.
Mismatched series
The Bloody Jack series by L.A. Meyer is probably the most noticeable mismatched series I have. The first three books are the original cover and short, the next five are the updated covers and tall, and I still have four more to buy!
Book you love but don't remember well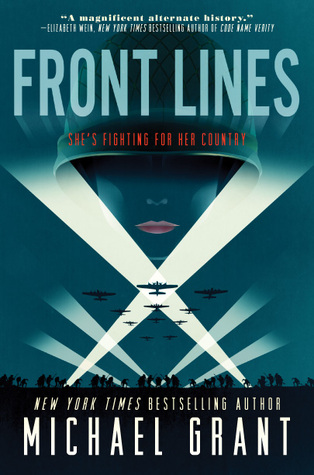 When this book came out I was SO. EXCITED. Alternate history where women are drafted and fighting in WWII? Yes, please. I read it in 2016 and never got a chance to buy the sequel so I can hardly remember what actually happened. It's on my reread list for Beat the Backlist.
I've got a lot of reading ahead of me! What's on your bookshelf?