Hello everybody! I know I've been wildly inconsistent lately and although I know that your feeds are so full of lovely bloggers you probably didn't notice I was still gone, I feel like I owe everyone an explanation.
A few weeks ago I made a post with a few quick updates: exciting plans for my website, soon-to-be progress on my second book, and finishing my second to last semester of graduate school. Aaaaaaaand then two days later my family and I were in a car accident. No life-threatening injuries and it wasn't our fault, but the car was totaled so I'm now the cheif chauffer for my mom and brother. It's two and a half weeks later and things are finally settling back down so I swear this time I'm actually going to start cranking out the content I promised!
Now on to the fun stuff! Pretty much since my finals a month ago, I haven't been blogging, reading (I finally just convinced myself to start Daisy Jones and the Six and I'm LIVING), or even working on my own book. In my spare time I've been a couch potato and since we all know I love a properly timed book tag, I had to do the Anything But Books Tag!
Name a cartoon that you love
I love Avatar: The Last Airbender with all my heart. I'm rewatching it now for the first time in years and years because I never got to watch Legends of Korra and I want to watch the original show first. I got both of the complete series for myself as an end of semester treat.
What is your favorite song right now?
I can't pick just one, so here are a few current favorites!
Dreams – Fleetwood Mac
When The Night Is Over – Lord Huron
As She's Walking Away – Zac Brown Band
What could you do for hours that isn't reading?
Ancestry research! I'm obsessed with mapping out my family tree and once I get started I can't make myself stop. Last night I was up until 2 am following a trail of clues.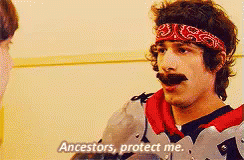 What is something you love to do that your followers would be surprised by?
Maybe crafts? I like to do something while I'm watching TV to make myself feel less guilty about it, so I usually crochet. My grandma taught me as a kid and I ran with it. I do some hand sewing and cross stitch too.
What is your favorite unnecessarily specific thing to learn about?
I'm going to be that annoying person right now… I don't think anything you learn about is unnecessary, even if it's super specific.
What is something unusual that you know how to do?
I don't think I have any usual talents, and I'm kinda bummed lol.
Name something that you made in the last year and show us if you can.
Most of the things that I make are gifts (and I'm the worst and always forget to take pictures before I give them away) but I did make my mom a cross stitched hummingbird for her birthday last month!
What is your most recent personal project?
Besides the family tree, current crochet project, and book in progress, I've been working on journaling consistently. Nothing fancy or artistic, just plain old words on paper.
Tell us something that you think about often?
The future! Doesn't everyone?
Give us something that's your favorite.
Having the windows open in my house! Weirdly specific, but I love the fresh air.
Say the first thing that pops into your head.
I wish I had more of my drink left. I just finished my Dr. Pepper 😂😂